Protection against a major and catastrophic oil spill is the highest environmental priority for San Juan County.
In 2016, the San Juan MRC submitted a Near Term Action proposal for a comprehensive Oil Spill Risk Consequences Assessment. In early 2018 the San Juan Local Integrating Organization (LIO) selected the Near Term Action proposal for locally-directed $100,000 funding. San Juan County, on behalf of the MRC contracted with economic consultants to perform an Oil Spills Consequences Assessment for San Juan County (Earth Economics) and to evaluate the cost of an emergency response towing vessel (ERTV, Northern Economics). 
The San Juan Ecosystem Protection and Recovery Plan identifies investment in an ERTV to reduce the risk of a spill at Boundary Pass/Haro Strait on the north and west sides of San Juan County as a priority risk mitigation measure. Such actions have also been recommended by the Governor's Southern Resident Orca Task Force, the Department of Ecology's 2016 Salish Sea Workshop, and Puget Sound Partnership Ecosystem Coordination Board and Leadership Council. 
The Studies
The first assessed the consequences and scale of impacts from two oil spill scenarios at the Haro Strait/Boundary Pass Turn Point to the natural resources health and economic vitality of San Juan County. 
The second evaluated the cost of positioning and operating a multi-mission ERTV in the San Juan Islands. 
Study Results
If an unmitigated oil spill were to occur in Haro Strait/Boundary Pass the damages incurred by San Juan County were estimated to range from $84 to $243 million for a 1-million gallon spill of heavy fuel oil, and $142 to $510 million for a more severe 4-million gallon spill of diluted bitumen over a 30-yr time period. 
These estimates are considered conservative. The estimated damages were based on observed impacts from past major oil spills in North America and included the following sectors:
Tourism spending, wages and tax revenue
Property values and taxes
Commercial fishing and aquaculture
Recreational use value
Ecosystem services
These estimates did not include the exorbitant costs associated with spill response and natural resources damage assessment and restoration. They also did not include known spill impacts such marine transportation, human health, social services, and science and education, nor the loss of tribal treaty rights -the value of which is beyond economic measure.
The annual cost of positioning an ERTV in San Juan County ranged from $4.3 million to $6.2 million annually. 
Reports
San Juan County Oil Spill Risk Consequences Assessment 
Page, R., Van Deren, M., Soares, J., Kerr, N. 2019. San Juan County Oil Spill Risk Consequences Assessment. Earth Economics, Tacoma, WA.
Oil Spill Emergency Response Towing Vessel Cost Evaluation for San Juan County. 
Northern Economics, Inc. San Juan County Emergency Response Towing Vessel Cost Evaluation. Prepared for San Juan County. December 2018.
What You Can Do
San Juan County and the MRC encourages those with environmental, economic, social, and cultural interests in the region to engage in the legislative process and related initiatives including the Southern Resident Orca Task Force. Engagement may increase public and political will and inform decisions that protect the San Juan Islands and regional ecosystems, communities, and businesses from the consequences of a large oil spill.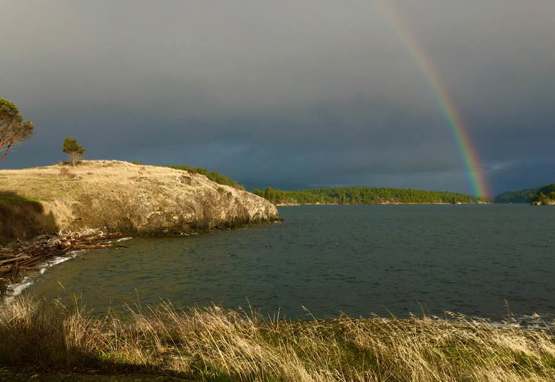 For more information on this work please contact Marta Green, Puget Sound Recovery Coordinator for San Juan County at martag@sanjuanco.com